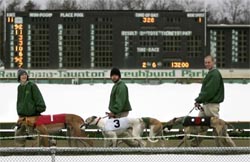 Greyhound racing
Greyhound racing in the great state of Massachusetts has come to an end. The reason behind the recent change in policy is quite simple – greyhound racing was voted down by referendum. The 69-year old Raynham Park will see no more live greyhound racing as the result of 56% vote on behalf of the public against the sport.
Last lap for greyhound racing in New England
More than 3,000 people visited Raynham Park this weekend on the final day of live greyhound racing in Massachusetts and, possibly, New England. This is the result of a public referendum — 56% of voters favored banning the sport — and part of a national trend driven by a mix of animal-rights concerns and declining track attendance.
Live dog racing has ceased in Maine, New Hampshire, Connecticut, and, temporarily at least, Rhode Island. Greyhound racing continues at 23 tracks in seven states, 13 of them in Florida, according to the organization GREY2K USA, which formed in 2001. At that time there were 49 greyhound racing tracks in 15 states.
Many greyhound racing dogs will move to race elsewhere, but hundreds will be looking for new homes. Raynham is working with GREY2K and the Massachusetts Society for the Prevention of Cruelty to Animals-Angell Animal Medical Center to aid their adoption.
"People who voted to end greyhound racing dog racing should step forward now and take a dog home,'' Dorchak said. "This is the happy ending we all worked for, and these dogs make wonderful pets.''
Industry can learn from greyhound ban
Rain Spot crossed the wire first in Saturday's 10th race at Raynham Park, a track that's been around for 69 years. Rain Spot's race is the last dog race that will ever be run in Massachusetts, where voters decided the sport was cruel to animals and ended it.
Greyhound racing fell into decline by the mid-nineties when attendance reached pitiful levels. Casino competition, and a poor facility led to its demise, but what killed off dog racing was the public aversion to animal cruelty. Massachusetts voters passed the Greyhound Protection Act by a 56-44 margin.
Animal rights activists shed light on greyhound racing that had long tolerated owners killing dogs after their racing days were over. One story reported that the remains of 3,000 greyhounds were found on the property of a former racetrack security guard in Alabama.
Ironically, the greyhound industry did a great job curbing the greyhound racing dog killings. The industry teamed with dog lovers in an effort to find homes for retired racers. According to the Greyhound Racing Association of America, more than 152,000 greyhounds have been adopted as pets since 1990.
Gates close on live racing at Raynham
After 26 years calling greyhound races, Tony Bonaminion went into race-calling mode as easily as turning on his microphone. After yesterday's races at the Raynham Park dog track, Bonaminion was out of a job and 75 years of live dog racing came to a close.
Patrons and employees, who turned out in massive numbers yesterday, were largely somber. For Peter Burke, director of racing, the Raynham track had been a family affair for years. "My two daughters and their mom work here,'' he said. Burke started as a lead-out and worked his way up to being in charge of all racing at the track.
The biggest transition might be for the greyhound racing dogs themselves. Chuck Thomson, head of adoption at the Off-Track Pets facility, said the closing was the "end of an era.'' Although Thomson's office was only open for three hours a week, he always had several visitors who came by.
Lots of greyhound racing dogs need a home now. Louise Coleman, Greyhound Friends' director, said 150 dogs from Raynham will not continue racing elsewhere and need to be adopted. The Greyhound Friends kennel in Hopkinton has taken in 50 dogs in the past six weeks. "It's unfortunate that the people are being laid off, but the dogs are being laid off, too. Their job is done. We do the best we can to help them,'' she said.
After decades of entertaining the public, Raynham racetrack must discontinue live greyhound racing on account of being voted down by the public in referendum.